iPhone 6s Plus
The only thing that's changed is everything
The moment you use iPhone 6s Plus, you know you've never felt anything like it. With just a single press, 3D Touch lets you do more than ever before. Live Photos bring your memories to life in a powerfully vivid way. And that's just the beginning. Take a deeper look at iPhone 6s Plus, and you'll find innovation on every level.
The next generation of Multi-Touch.

The original iPhone introduced the world to Multi-Touch, forever changing the way people experience technology. With 3D Touch, you can do things that were never possible before. It senses how deeply you press the display, letting you do all kinds of essential things more quickly and simply. And it gives you real-time feedback in the form of subtle taps from the all-new Taptic Engine.
12MP pictures. 4K videos. Live Photos. Lasting memories

.
The world's most popular camera is more advanced than ever. The 12-megapixel iSight camera captures sharp, detailed photos. It takes brilliant 4K video, up to four times the resolution of 1080p HD video. iPhone 6s Plus also takes selfies worthy of a self-portrait with the new 5-megapixel FaceTime HD camera. And it introduces Live Photos, a new way to relive your favourite memories. It captures the moments just before and after your picture and sets it in motion with just the press of a finger.
A9. The most advanced chip ever in a smartphone.

iPhone 6s Plus is powered by the custom-designed 64-bit A9 chip. It delivers performance once found only in desktop computers. You'll experience up to 70 per cent faster CPU performance, and up to 90 per cent faster GPU performance for all your favourite graphics-intensive games and apps.
Advanced security. Right at your fingertip.
Using a highly advanced fingerprint sensor that's now faster and better than ever, Touch ID makes unlocking your phone easy and secure.
Ultra-fast wireless. Faster Wi-fi.
iPhone 6s Plus features support for ultra-fast wireless technologies.* That means you can connect to even more high-speed networks in more places around the world. And with advanced Wi-fi, you'll experience incredibly fast wireless speeds.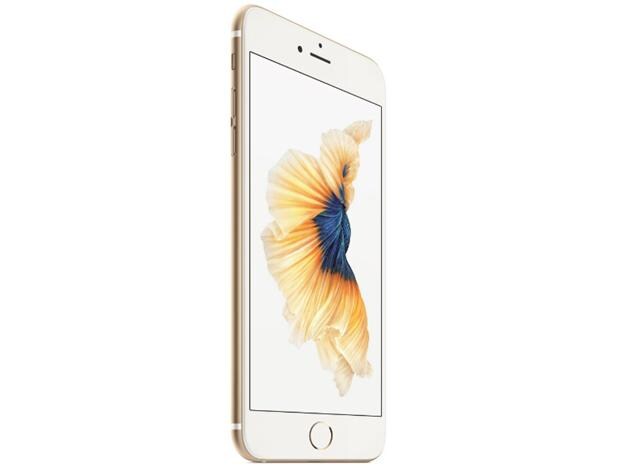 The world's strongest smartphone glass. Now even stronger.
The new glass on iPhone 6s Plus is made using a special dual ion-exchange process, which makes it stronger at a molecular level and the most durable in the smartphone industry.
Sleek and seamless, in four gorgeous finishes.
The smooth, continuous unibody design created for iPhone 6 comes to iPhone 6s Plus. Its familiar form feels just right in your hand
More stunning detail in every single pixel.
The iSight camera captures beautiful 12-megapixel still photos. But great photos aren't just measured in megapixels. That's why we've added a state-of-the-art sensor, a new image signal processor, advanced pixel technology, Focus Pixels, improved local tone mapping and optical image stabilisation. What does that all mean? It means we've taken care of the technology. All you have to do is find something beautiful and tap the shutter button for the best, most awe-inspiring photos you've ever taken.
Take a selfie worthy of a self-portrait.
The FaceTime HD camera is the perfect way to express yourself with selfies and FaceTime calls. Now you can capture those expressions even better with 5-megapixel photos. And with all-new Live Photos, the FaceTime HD camera can also capture those subtle moments that are only possible with motion – a sudden giggle, the hint of a dimple, or a look of wonder.
With Retina Flash, every side is your best side.
The Retina HD display isn't just a beautiful place to see your content – it's now a flash for your FaceTime HD camera. When you snap a selfie, a pre-flash detects the lighting around you. Then a True Tone flash on the display matches the ambient light for a gorgeous shot with more true-to-life colours and more natural-looking skin tones. Retina Flash is powered by an innovative technology – a custom display chip that allows the display to flash three times brighter than usual. So go ahead and show your most fearless smile. iPhone 6s Plus is always ready for it.